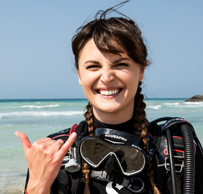 It's always fun
to explore new
world together,
I promise!
My name is Tatiana Cornilova and I will be your personal diving instructor and guide. My main focus is your safety and comfort. My attention is always on you, so your attention is on surrounding ocean and its beauty. You have to see it at least once in your life, this experience can't be compared with anything else.
Together we will go through all the steps of your course, starting from classes in the pool to your first breath in the open ocean. I know how important is the first time, that's why I'm not only your instructor, I'm your friend. We will be always in touch, I'll help you to arrange and set up everything for your diving experience, will get your something tasty to munch and will make sure you're having fun.
Are you ready now? Get equipped with your courage- we're going to explore our world deep down!